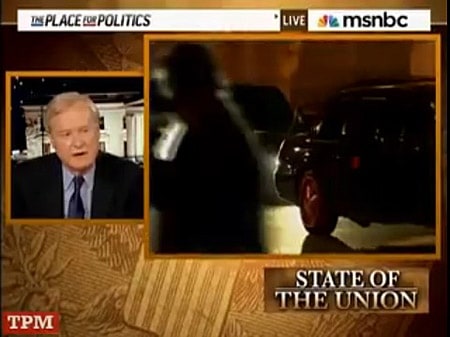 Following the President' State of the Union speech, Chris Matthews remarked, "It's interesting. He's post-racial by all appearances. You know, I forgot he was Black tonight for an hour."
One YouTube commenter said, "If you are still getting used to the newness of our first black United States president then Matthews comment makes sense and sounds completely normal. If you adjusted to the first black US president perfectly fine, and have simply seen Obama as another president then Matthews comments wil sound very disturbing."
Writes Pam Spaulding: "What it boils down to is that there's something about being "black" to forget -- such as um, being articulate, or educated, or perhaps in his mind, standing up there and doing the whole SOTU thing in the wake of a whole lot of white guys and guess what? He's not all that different from any of them. It's almost a child-like expression of wonder, like that classmate of mine at Fordham who asked me if I could tan.  You just have to shake your head and think about how just how far we have to go when it comes to race, even if the person believes they are paying a "compliment." That's not a post-racial America, Chris."
Matthews later clarified his remarks on the Rachel Maddow show.
Watch both clips, AFTER THE JUMP...
Visit msnbc.com for breaking news, world news, and news about the economy