Chinese police shut down the country's first 'Mr. Gay China' pageant just an hour before it was set to start, the AP reports: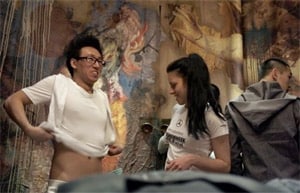 "The Mr. Gay China pageant, featuring a fashion show and a host in drag, was set to take place in an upscale nightclub in Beijing, but police arrived and said it could not take place, Ben Zhang said. "They said the content, meaning homosexuality, there nothing wrong with that, but you did not do things according to procedures," Zhang said. He said police told him he needed to apply for approval for events that included performances, in this case a stage show. The forced closure comes even though a successful rehearsal was held Thursday night in the same location. Official media had also reported on the pageant. Zhang had said he hoped it would mark another step toward greater awareness of homosexuals in a country where gays are frequently discriminated against and ostracized. Eight men were competing for the title and a spot in the Worldwide Mr. Gay pageant, to be held next month in Oslo, Norway.
Watch the Guardian's video report on the pageant, AFTER THE JUMP...