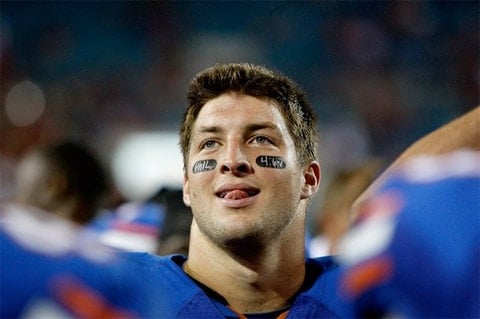 University of Florida football quarterback Tim Tebow was asked about his participation in an upcoming Super Bowl commercial for evangelical anti-gay, pro-life organization Focus on the Family.
Said Tebow: "I know some people won't agree with it, but I think they can at least respect that I stand up for what I believe, and I'm never shy about that. I don't feel like I'm very preachy about it, but I do stand up for what I believe. Unfortunately in today's society not many athletes tend to do that. So I'm just standing for something. I've always been every convicted of it (being anti-abortion), because that's the reason I'm here, because my mom was a very courageous woman. So any way that I could help, I would do it."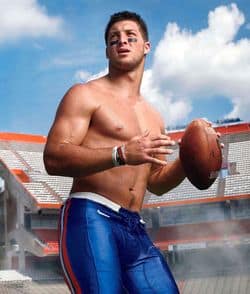 Tebow has made his role as a "servant of God" clear before. In a GQ profile, complete with shirtless pin-up photo, Tebow said: "When you die, there's gonna be a tombstone, and on that tombstone there's gonna be a name, and there's gonna be a date. And for me, it's going to be 1987, and then it's gonna have a dash.… I want that dash to mean something. I want that dash to be special. I want that dash to represent that Tim Tebow finished strong. And most importantly, when I get to heaven, I want Jesus to say, well done, my good and faithful servant."
Networks have policies rejecting issue advertising in national spots, the NYT reports: "That is one reason why the decision by CBS to sell time to Focus on the Family is raising eyebrows. Another reason is that in the past CBS has rejected requests to buy issue ads during Super Bowl games. A third reason is that the founder of Focus on the Family, James Dobson, has been a polarizing figure in recent years in discussions of social and political issues."
CBS Sports Columnist Gregg Doyel slammed the CBS decision in a column last week: "Apparently the commercial has a beautiful, undeniable message. Tebow's mother suffered a life-threatening infection during that pregnancy, and doctors advised her to abort the baby. She didn't. She named him Tim. Just typing this paragraph gives me goose bumps. The commercial might just make me cry. Still, I don't want to see. Not during the damn Super Bowl. And I'm not complaining about the ad because it's anti-abortion and I'm not. I'm complaining about the ad because it's pro-politics. And I'm not. Not on Super Sunday. If you're a sports fan, and I am, that's the holiest day of the year. That's a day for five hours of football pregame shows and four hours of football game and three hours of postgame football analysis. That's a day for football addicts to gorge themselves to the gills on football. It's not a day to discuss abortion. For it, against it, I don't care what you are. On Super Sunday, I don't care what I am. Feb. 7 is simply not the day to have that discussion."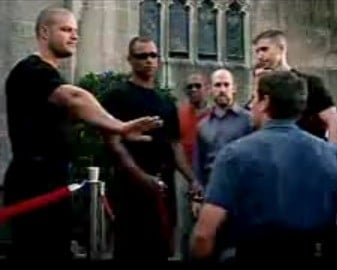 CBS has reportedly approved the Focus ad: " CBS executives approved a script for a Super Bowl spot from evangelical group Focus on the Family, which suggests the ad will not carry a pro-life message — at least an overt one. The network has a policy of prohibiting advocacy ads, even ones that carry an 'implicit' endorsement for a side in a public debate. A CBS spokesman did say the network will review the video version of the spot before giving it the final green light, but does not anticipate any hurdles."
The rules are fuzzy enough, however, Think Progress reports, that networks can skirt them.
In 2004, CBS rejected an ad about tolerance from the United Church of Christ in which the UCC's inclusive policies were highlighted by showing a bouncer stationed at a church door with a velvet rope turning away gays and minorities. The Guardian has posted a bunch of Super Bowl ads rejected by networks.
Watch the UCC ad which was rejected, AFTER THE JUMP...
A Facebook group has been formed to demand that CBS either reject the Tebow - Focus on the Family ad or give the United Church of Christ the opportunity it was denied in 2004 to air an ad about tolerance.
Previously...
Tony Joiner's Touchdown Kiss for Tim Tebow Causes Stir [tr]