Yesterday, in my post about the Catholic Church sexual abuse scandal, I linked to an AP story about three Brazilian priests accused of sexually abusing altar boys: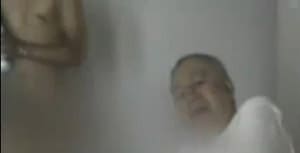 "The case came to light after the SBT network aired a video purportedly showing an 82-year-old priest having sex with a 19-year-old altar boy who worked for him for four years. Other young men appeared on the report saying that they, too, had been abused by Monsignor Luiz Marques Barbosa. Also under investigation are Monsignor Raimundo Gomes, 52, and Father Edilson Duarte, 43, for allegedly having sexual relations with boys and young men. According to a statement from the church, the three priests are 'supposedly involved in acts (yet to be proven) of sexual abuse.' The statement did not say whether the men admit or deny guilt. None of the priests could be located to ask about the case, and the church would not provide contact details for them...In its report last week, SBT showed footage of a man who looks like Barbosa having sex with the 19-year-old. It said the footage was secretly filmed in January 2009 by a 21-year-old man who charges Barbosa had abused him since age 12. SBT said the video was sent anonymously to the network, and reporters went to the town of 200,000 people to investigate last month."
Hundreds of new allegations of sexual abuse have surfaced in the German church alone, it has been reported. So many, in fact, that Vatican offices are having trouble dealing with the amount of work they are generating.
This is the modern day Catholic Church under Pope Benedict. Shameful.
The SBT news clip (censored), AFTER THE JUMP...
(Warning: Censored but possibly NSFW)