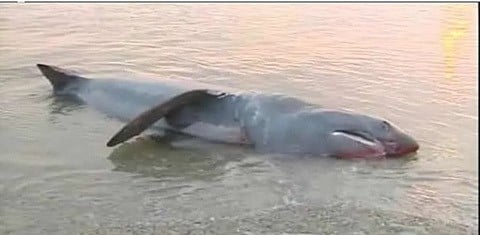 A 20-foot Basking shark beached itself at Plymouth, Massachusetts yesterday:
"Shark expert Dr. Greg Skomal plans to meet with Plymouth town officials to decide how to remove the shark, which remained on shore this morning as the tide changed, said state Division of Marine Fisheries spokeswoman Catherine Williams. Scientists will perform 'a necropsy, or animal autopsy on the fish, to take samples to learn what they can from it,' said Williams."
You may recall that one of these sharks
washed ashore last summer near Babylon, New York
.
The harmless sharks, which scoop up plankton, are quite amazing creatures. Check out a video of them underwater here.
 
A news report on the Massachusetts shark, AFTER THE JUMP...