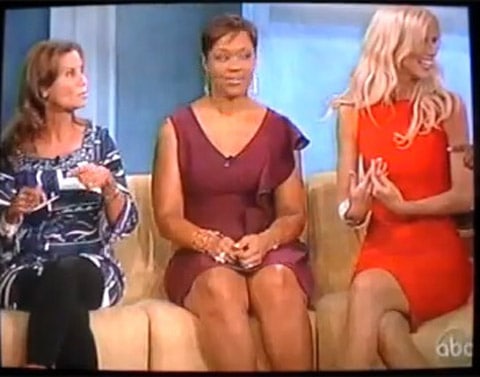 Major drama over at The View where Whoopi Goldberg apparently erupted after Michaele Salahi, the White House party crasher who is one of the D.C. Real Housewives, left in tears accusing Whoopi Goldberg of "outrageous abuse" for grabbing her on the air.
In fact, Goldberg touched her on the shoulder.
What set Salahi off was when Goldberg came from backstage and approached Salahi on the air, saying something that was inaudible to viewers. According to Lisa Bloom, the Salahi's lawyer, Goldberg grabbed Salahi's arm and said, "Move on, move on! Get to the White House!," in an attempt to steer the conversation toward allegations that the Salahis party-crashed last year. The moment lasted all but a few seconds, but Salahi was apparently unnerved and remarked that she'd been surprised by Goldberg's appearance. Co-host Sherri Shepherd remarked to the audience, "That's Whoopi. She don't come out unless she's passionate."

Then, after the show finished taping, Goldberg, according to the Salahis' lawyer, Lisa Bloom, burst into a room Michaele was sitting in with Tareq and screamed: "I didn't fucking hit you! Did you say I fucking hit you?" "She was screaming and dropping the F-bomb many, many times," Bloom told The Daily Beast exclusively. Tareq apparently began filming the verbal altercation with his BlackBerry, though Bloom said he only caught "the last few seconds."
If it wasn't already apparent that the Salahis have a warped view of reality, well...
Watch the clip (the moment comes at about 1:50) and Whoopi's response,
AFTER THE JUMP...