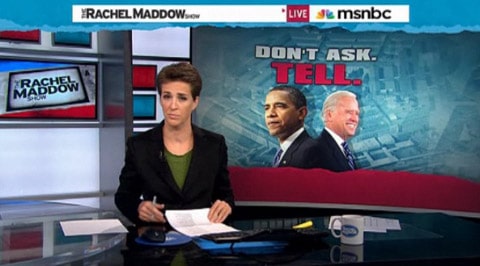 As you can imagine, Rachel Maddow had plenty to say last night on the DADT debacle.
Maddow nails Biden on a promise he said he made with lawmakers to get the DADT repeal votes, which he didn't get. She also goes after Republicans for obstruction.
In a segment she talks with Lawrence O'Donnell about what happened in the Senate, and in a third segment Nathaniel Frank, author of Unfriendly Fire, discusses the options that we have open to us now.
Watch, AFTER THE JUMP...
Visit msnbc.com for breaking news, world news, and news about the economy
A discussion with Lawrence O'Donnell about what happened:
Visit msnbc.com for breaking news, world news, and news about the economy
A discussion with Unfriendly Fire author Nathaniel Frank about the profound leadership failure:
Visit msnbc.com for breaking news, world news, and news about the economy