What a strange and saddening story: gay Porn actor Shane Michael Thompson, who in the porn world goes by the stage name Jason Creed, has been arrested in Florida for animal cruelty after allegedly choking to death his own dog, a three-legged wolf-dog named Moonshine. Thompson brought the dead animal to an animal clinic for cremation and apparently told workers there that his dog had suffered a seizure. That's when a vet examining the dead animal discovered suspicious injuries.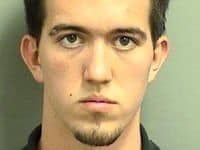 NBC Miami reports:
Police said Thompson, of Boca Raton, had beaten the dog before he took it to an animal clinic earlier this month to have it cremated. A necropsy showed Moonshine had severe blunt force trauma and had died with food stuck in its throat. Creed allegedly told the clinic the dog may have died from a seizure. When a friend of Thompson's called animal control on Oct. 7 and told them he suspected Moonshine had been killed by Thompson, police began an investigation. Thompson's roommate and friends told police Moonshine had been physically abused by Thompson before.
Animal control had been called to Thompson's home in the past after complaints from neighbors but the dog was never taken away form his owner. Thompson refused to go in front of a judge yesterday but was scheduled to face one this morning.
Watch a safe for work interview with a seemingly righteous Thompson as his alter ego Jason Creed, AFTER THE JUMP.