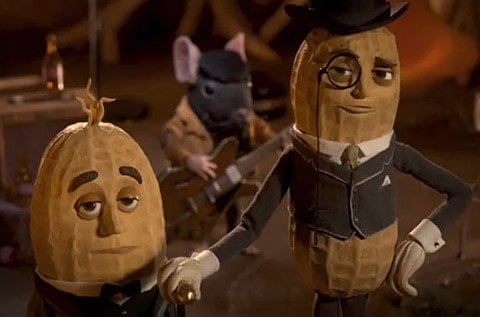 Paul Rudnick, reacting to the news that the Planters mascot has a new sidekick named Benson, outs him:
After watching Portia de Rossi promoting her new memoir about her anorexia, her struggle to come out as a lesbian, and her eventual happy marriage to Ellen DeGeneres, I feel emboldened. (Although I regret that, because I am a carbohydrate, Portia may fear me.) And after seeing Ricky Martin discuss his new memoir, about his coming out and his joy in becoming the father of beautiful twin sons, I think it's time to tell the world that Benson and I will soon be adopting a jumbo cashew and a pair of Jordan almonds; some people will call it bridge mix, but for Benson and me it's our family.
As I reveal in my own upcoming memoir, "Right in the Nuts," I had an agonized childhood. I was born and roasted on a dusty peanut farm down South, and my earliest memories are of being attracted to a macadamia named Jimmy Ray. But all too soon he was harvested and ended up in a small porcelain bowl placed on an armrest in first class on a Delta non-stop to Los Angeles. I still recall our time together fondly, whenever I hear a flight attendant murmur, "Warm nuts?"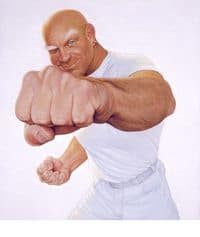 Mr. Peanut (Rudnick) goes on to reveal that as he became famous, he was involved in torrid love affairs with other product mascots:
Those were heady times, and my picture began to appear on advertisements and packaging all around the world. I went a little crazy, hooking up with both Buster Brown and the sailor on the Cracker Jack box, although my affair with Mr. Clean lasted well over a year. Mr. Clean, whose first name is Eugene, told me, "I don't know what America is thinking. I'm a muscular bald man in a tight white T-shirt, with a single earring—to me that says San Francisco leather daddy." In many ways, Mr. Clean was the perfect lover, because after even the messiest night of torrid lovemaking the bedroom was always spotless. We finally broke up after I came home early one day and caught him with Poppin' Fresh, the Pillsbury Doughboy. "What can I say?" Poppin' sneered, dripping with melted butter. "He likes my biscuits."
After that, I went on a wild sex binge, with everyone from Cap'n Crunch to Snap, Crackle, and Pop, and I'll just say this: none of those guys gets soggy in milk. I remember waking up in a cave in the jungle, in the paws of Tony the Tiger, who roared, "You were grrrrreat! " But it all came crashing down when I found myself in a three-way, squeezed between Ronald McDonald and Snuggle, the fabric-softener bear, with dryer sheets stuck to my face with thick white clown makeup. Is this who I am? I wondered. What's next? The Kool-Aid pitcher? Count Chocula? The Geico gekko?
So what prompted this revelation?
God bless them, the Planters marketing people launched an image overhaul, and suddenly I had a spiffy new gray flannel blazer, the voice of Robert Downey, Jr., and . . . Benson. They call him my sidekick, but from the minute we were introduced we both knew that we were headed not just for a broad-based new campaign but for an announcement in the Sunday Times social pages, under the heading "Legumes Wed."
Watch the new Mr. Peanut ad, AFTER THE JUMP...
NUTTY [the new yorker]