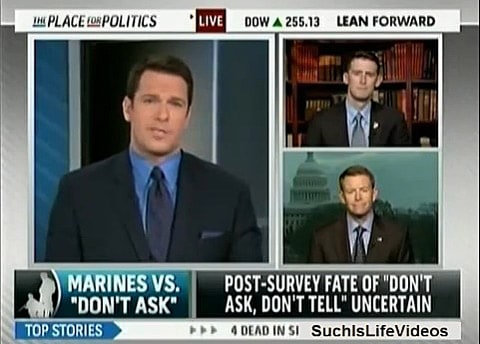 Hate group leader Tony Perkins (of the Family Research Council) and Sgt. Brian Fricke of the Servicemembers Legal Defense Network, appeared on MSNBC today to discuss 'DADT' repeal and the Pentagon report.
Perkins does his best to discredit the opinions of Mullen and Gates, and cites the FRC's own "scientific survey" (the survey of a designated hate group) that 30% of the Armed Forces are ready to leave if gays are allowed to serve openly.
UPDATE: In related news, Chris Matthew tonight exposed Perkins for citing an illegitimate pediatrics group in his defense of the FRC's designation as a hate group on Monday night. 
Why MSNBC continues to give this fraud a platform on their various programs is baffling.
Watch both clips, AFTER THE JUMP...