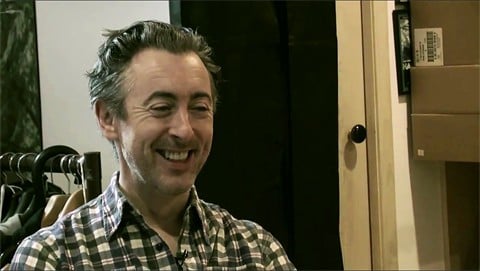 Nathan Manske and Marquise Lee just finished a 4 month, 50 state tour of the United States collecting stories for their I'm From Driftwood site. We'll be sharing some of the stories they collected along with some of the insight into what they saw. They're still encouraging people to submit their written stories via IFD.

It was a dreadfully dreary and rainy day when we met Alan. He was out walking his two dogs — one which insisted she sit on my lap during the storytelling — when we arrived. Even when the camera wasn't rolling, Alan seemed to talk from an outsider's perspective, like he'll always be the Scotland farmboy making it in the big city. He seemed fascinated by and curious about everything, which made him a a pleasure to speak with.
Watch, AFTER THE JUMP...
Recently in this series...
A Repressed Memory of a Traumatic Gym Class and an Abusive Father [tr]
Mormon Church Excommunicates Young Man, Forcing Him to Come Out [tr]
Gay Love Story in Bible Leads to New Belief System [tr]
From Cancer Diagnosis to Fairytale Wedding [tr]
Yale Student Jake Conway on His 'Ultimate Sense of Pride' [tr]