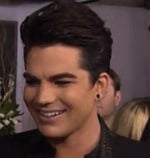 Adam Lambert will be performing an acoustic version of his track "Aftermath" on American Idol this Thursday, and he'll be releasing a remix of the song as a single shortly thereafter, with a portion of the proceeds directed to The Trevor Project, the national suicide helpline for LGBTQ teens.
Said Lambert about the single: "["Aftermath"]...was written about finding the courage to be honest with yourself and the people who love you. It's about facing adversity and taking risks in the name of personal liberation. The song takes on different meanings to different listeners. I hope this song inspires people to be who they truly want to be... And dance!"
Listen to the remix and Ryan Seacrest's interview with Lambert, AFTER THE JUMP...