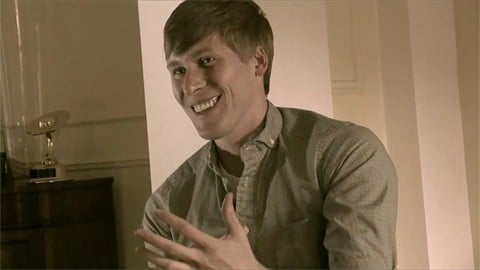 Nathan Manske and Marquise Lee embarked on a 4 month, 50 state tour of the United States collecting stories for their I'm From Driftwood site. We'll be sharing some of the stories they collected along with some of the insight into what they saw. They're still encouraging people to submit their written stories via IFD. You can follow them on Facebook, Twitter and YouTube.



"Milk" was what inspired me to create "I'm From Driftwood" so meeting the film's screenwriter, Dustin Lance Black, was both meaningful and exciting. He was kind enough to show me some artifacts that belonged to Harvey Milk, which he was soon going to donate to a museum or archive. One item was a funny hand-written note from Harvey to a local politician he had met the night before, which said something along the lines of, "Had fun last night. Not in that way! -Harvey". Anyway, I was half expecting Dustin to talk about "Milk" or winning his Oscar but he surprised me by telling a funny but still personal and meaningful story I hadn't previously heard from him.
Watch, AFTER THE JUMP...
Recently in this series...
A Lesbian Finds Relief and Community in the 1970s [tr]
Gay Teen's Father Says Discussion with Bullies Put End to Harassment [tr]
Gay Wasilla Teen Met with Religious Fanatics at School, Support at Home [tr]
Lexington Mayor Jim Gray on Coming Out to the Media [tr]
Reflecting on a Father's Pride, a Grandmother's Fears [tr]