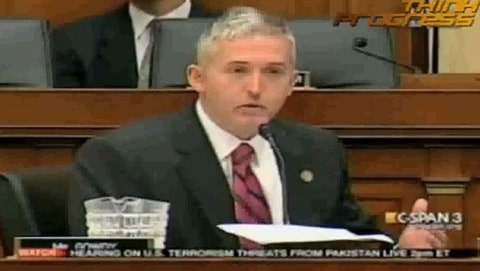 While asking Attorney General Eric Holder about levels of scrutiny with regard to same-sex marriage in a DOMA hearing yesterday, Rep. Trey Gowdy (R-SC) brought up polygamy and incest, asking whether they deserved heightened levels of scrutiny as well.
Writes Igor Volsky at the Wonk Room:
Unlike laws preventing people from marrying their brother, laws which discriminate against gay people meet the Supreme Court's legal standard for heightened scrutiny because gay men and lesbians have historically been "subjected to such a history of purposeful unequal treatment, or relegated to such a position of political powerlessness as to command extraordinary protection from the majoritarian political process."
Gowdy went on to note that two court of appeals have ruled that a rational basis test should be applied to sexual orientation laws, while just one agreed with the administration's view that a higher level of review is applicable and asked why Obama chose to side with the one decision.
Watch, AFTER THE JUMP...