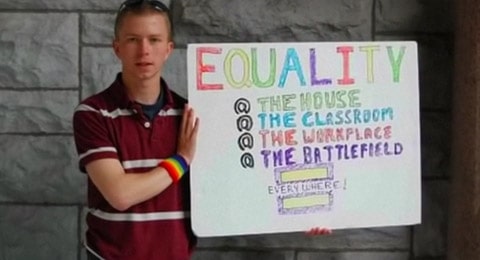 PBS Frontline takes a close look tonight at the conflicted mind of Wikileaks soldier Bradley Manning:
Manning's Facebook postings are a vivid, if partial, portrait of his life in the military and of the political and social issues that he followed closely. They reflect his commitment to gay rights and defiance of the military's ban on openly gay or lesbian soldiers. They track the anguish in his personal life. And they conclude with an entry, put up in Manning's name by his aunt, explaining his arrest with a link to a WikiLeaks website.
Frontline also obtained access to Manning's Facebook account. They offer a detailed annotation of his Facebook wall on their website.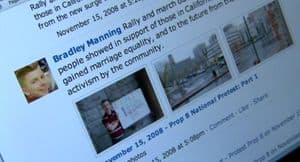 Another analysis of the Facebook account at Yahoo News' The Lookout:
In the postings, the army intelligence analyst broadcasts his gay rights activism, joining scores of groups like "LGBT Rights" and "REPEAL THE BAN--End 'Don't Ask, Don't Tell,'" and shares thoughts about his boyfriend, in apparent violation of the military's ban on gays serving openly. But the postings, which span nearly three years, also depict a young man who by last year had grown deeply frustrated by the need to hide his sexuality from his colleagues, and was fighting feelings of despair and isolation.
To be sure, there's also evidence that Manning's qualms about the civilian deaths caused by the military, and his broader discomfort with the direction of U.S. foreign policy helped stoke his sense of disillusion and alienation. But taken as a whole, the Facebook archive suggests that anger about Don't Ask Don't Tell (DADT)--which was repealed by Congress last December, but remains in place for now--may also have played a role in Manning's alleged act of rebellion. In other words, that Manning may have responded to the strain of being made to keep his own secrets for so long by revealing U.S. government secrets of a far more consequential nature.
Watch a preview, AFTER THE JUMP...
Watch the full episode. See more FRONTLINE.