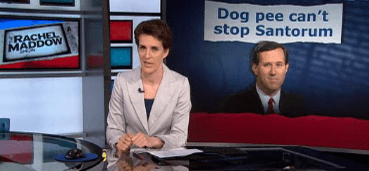 Rick Santorum, famous for his "man on dog" remarks about same-sex marriage, recently shared a story about a dog who peed on his leg during a campaign stop. Rachel Maddow wants Santorum to know that if he's trying to distance himself from that remark, he's doing a lousy job.
Said Maddow: "Mr. Santorum is trying to undo what started as his man-on-dog problem with a new stump speech about a man and a dog. And a warm sensation."
Watch the rest of Maddow's commentary about "frothy mix" and the "serious barrier" that his googled name presents to his very likely presidential campaign, AFTER THE JUMP.