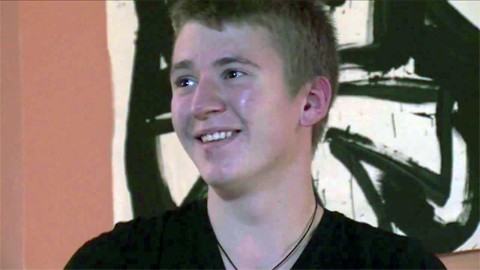 Nathan Manske and Marquise Lee embarked on a 4 month, 50 state tour of the United States collecting stories for their I'm From Driftwood site. We'll be sharing some of the stories they collected along with some of the insight into what they saw. They're still encouraging people to submit their written stories via IFD. You can follow IFD on Facebook, Twitter and YouTube.

Given all the news about homophobic protests and violence in Serbia, it wasn't surprising to hear a less-than-rosy story from a Serbian teen. What was nice, though, is hearing him talk about his near-perfect experience of being out and gay in a high school in the U.S. Even though we clearly still have a way to go, I couldn't help but take a step back after hearing Stefan's story and be proud of where we're headed in terms of societal acceptance and rights here in the U.S.
Watch, AFTER THE JUMP...
CHECK OUT OUR RECENT LGBT STORIES...
Dustin Lance Black Comes Out to College Roommate Using Bar of Soap [tr]
A Lesbian Finds Relief and Community in the 1970s [tr]
Gay Teen's Father Says Discussion with Bullies Put End to Harassment [tr]
Gay Wasilla Teen Met with Religious Fanatics at School, Support at Home [tr]
Lexington Mayor Jim Gray on Coming Out to the Media [tr]