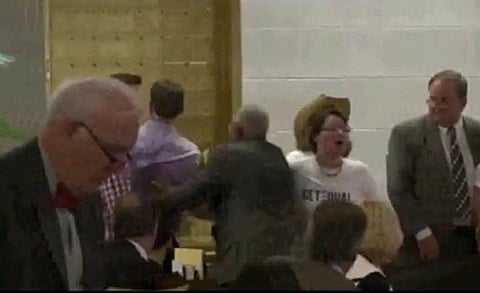 Following a "Rally for Equality" of about 200 people outside the North Carolina legislature this afternoon, three protesters were arrested after bursting into the House chamber and chanting while it was in session, the News Observer reports: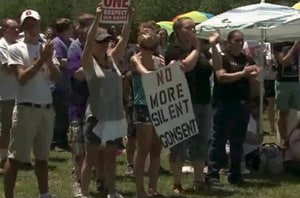 Arrested on charges of disorderly conduct were James Weatherly Neal, Angel Chandler and Mary Beth Counce. Neal, a Chapel Hill businessman, ran for senate as an openly gay candidate in 2008.
General Assembly Police Chief Jeff Weaver said they were being booked into the Wake County jail in dowtown Raleigh late this afternoon. Further information about their ages and where they live was not immediately available.
Witnesses said three to five people were involved, some shouting "Liberty and justice for all!" House Speaker Thom Tillis repeatedly banged his gavel, but kept the session running after the momentary disruption.
The protesters were with the activist group GetEQUAL.
The North Carolina General Assembly is considering two bills that would amend the state's Constitution to ban same-sex marriage and prevent businesses and municipalities from offering domestic partnerships, while nullifying benefits that already exist.
Ian Palmquist of Equality NC, a gay-rights group, issued a statement to the paper: "While we share the protesters' passion for equal rights, we cannot condone today's disruption of the House session."
Watch video of the rally and protest, AFTER THE JUMP...
Pam Spaulding shot this video: