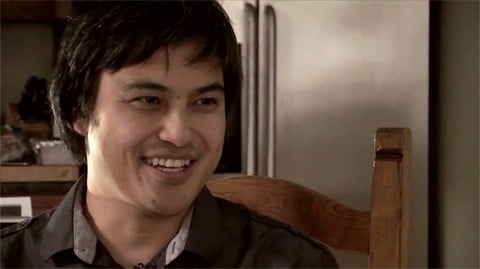 NATHAN MANSKE

Nathan Manske and Marquise Lee embarked on a 4 month, 50 state tour of the United States collecting stories for their I'm From Driftwood site. We'll be sharing some of the stories they collected along with some of the insight into what they saw. They're still encouraging people to submit their written stories via IFD. You can follow IFD on Facebook, Twitter and YouTube.

We stayed with Ricco and his partner Guy during our stay in Boston. They were great hosts and I'm glad Ricco made it back from his trips to Uganda and Ghana safe and sound. I can only imagine how scary it would be to have been out for 20 years already then have to go back in the closet in fear for your life. Especially now that other people could slip up and out you.
Watch, AFTER THE JUMP...
CHECK OUT OUR RECENT LGBT STORIES...
Inclusion Activist Organizes Protest Against Kansas City Pride [tr]
Serbian Exchange Student Remembers Tough and Unwelcoming Life Back Home [tr]
Dustin Lance Black Comes Out to College Roommate Using Bar of Soap [tr]
A Lesbian Finds Relief and Community in the 1970s [tr]
Gay Teen's Father Says Discussion with Bullies Put End to Harassment [tr]