A hearing into the frivolous Motion to Vacate made by Prop 8 proponents over the judge's sexuality in the Prop 8 case took place early today. The hearing was prompted by a motion from proponents of Proposition 8 over the fact that Judge Vaughn Walker, who overturned California's ban on same-sex marriage, is in a relationship with a man.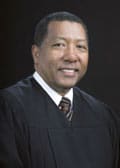 Our legal expert Ari Ezra Waldman wrote his take on the motion back in April. Read it here.
Reuters' Dan Levine reports on the hearing: 
[JAmes]Ware (pictured), an African-American judge nominated to the bench by George H.W. Bush, sharply questioned Charles Cooper, the attorney defending California's marriage ban. "If a reasonable person thought a black judge should recuse himself from a civil rights case, that would be sufficient to recuse the judge?" Ware asked.
"No, your honor," Cooper responded. Ware also pointed out that while Walker was in a long term relationship, there was no evidence that he wanted to marry.
Theodore Boutrous, an attorney for the same sex couples, called the attempt to vacate the ruling offensive. "Their motion is targeting Judge Walker's sexual orientation, no matter how they try to camouflage it," Boutrous said.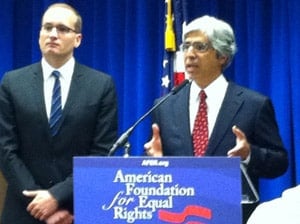 Added Boutros, in a statement from AFER:
"The Proponents of Prop. 8 today advocated for a sweeping and completely unsupported standard for disqualification that would preclude hundreds of qualified, fair-minded judges from deciding some of the most important issues facing our country. Their standard is intended to, and would, prevent gay, lesbian or bisexual judges from impartially presiding over cases involving the rights of same-sex individuals and couples – an offensive suggestion that has been consistently rejected by the courts in similar cases involving race and sex discrimination."
Here's a thorough liveblog archive from the Courage Campaign's Adam Bink if you'd like to read through the questioning.
Ware said he would rule quickly, likely within 24 hours, on the case.
Watch ABC7's report on today's hearing and activity outside the courtroom,
AFTER THE JUMP...