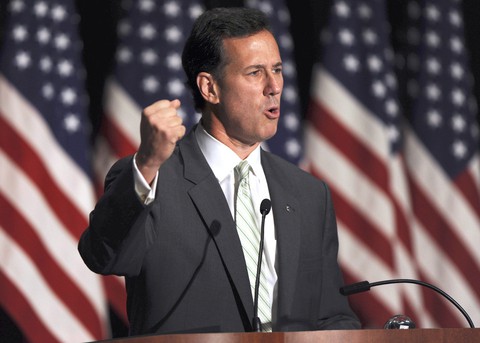 Presidential candidate Rick Santorum blurred the line between fiction and reality during a speech at a right wing event last night.
During remarks on gay activist Tim Gill's successful efforts to derail the former Pennsylvania Senator's 2006 reelection campaign, Santorum
claimed
never to have compared gay sex to incest ahead of the 2003 Supreme Court decision to overturn anti-sodomy laws.
Of course we all know that's not true, because
Santorum indeed said
, "The Supreme Court says that you have the right to consensual sex within your home, then you have the right to bigamy, you have the right to polygamy, you have the right to incest, you have the right to adultery." That sounds like a comparison to me.
Later in his remarks, Santorum, a long-shot candidate, wanted to make clear that he does not support marriage equality in any way, shape or form, and, after citing Abraham Lincoln's famous quote, "We do not have the right to do wrong," the Republican declared, "States do not have the right to destroy the American family. It is your business."
He went on, "It's not fine with me that New York has destroyed marriage, it is not fine with me that New York is setting the template that will cause great division in this country."
That comment, of course, was a dig at potential competitor Rick Perry, who was then
forced to reiterate his opposition to gay marriage
.
Watch the always dramatic Santorum's remarks,
AFTER THE JUMP
...