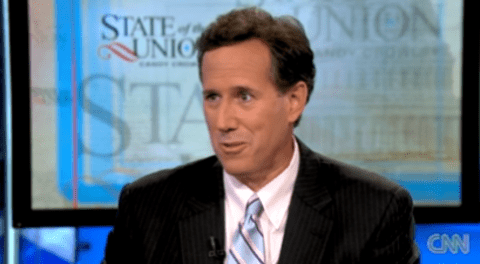 Republican presidential candidate Rick Santorum explained why he signed an Iowa conservative group's
anti-gay "marriage pledge"
on CNN's
State of the Union
this morning.
Though Santorum admits he was "taken aback" by some of the document's demands, particularly one requiring candidates themselves to pledge fidelity, the former Pennsylvania Senator also insists he had no qualms signing the
controversial oath
:
When I first read it I was taken aback, but I can't argue that I wasn't, but I understand why they are saying that. Because it does undermined peoples' respect for the institution, respect for the people governing this country. If you can't be faithful to the people that you are closest to, then how can we count on you to be faithful to those that you represent.
Watch Santorum and host Candy Crowley discuss his decision, AFTER THE JUMP...