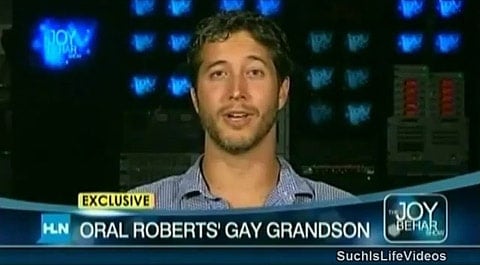 In his first television appearance, Randy Roberts Potts, the gay grandson of televangelist Oral Roberts, appeared on The Joy Behar Show with host Don Lemon to discuss his grandfather, coming out, his marriage to a woman, his spirituality, his "It Gets Better" video, and how his family relates to his homosexuality now:
"They don't accept it. They strongly believe that I'm going to hell for being openly gay. I strongly believe I'm not. So it's hard to find a middle ground between us...I think they are really legitimately afraid that I am going to hell and they're too scared to look beyond that and so it hurts  me but I also feel badly for them to be trapped in a place like that.
Watch, AFTER THE JUMP...