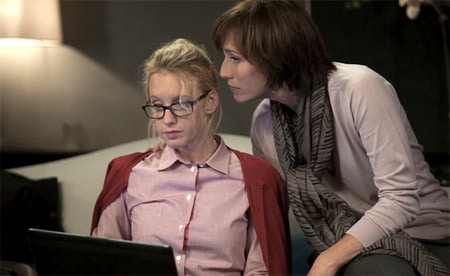 Kristin Scott Thomas plays headgames (and sniffing hair games?) with  Ludivine Sagnier


NATHANIEL ROGERS
...would live in the movie theater but for the poor internet reception. He blogs daily at the Film Experience. Follow him on Twitter @nathanielr.
 
 NOW PLAYING
In the absence of heavy hitting new releases it's a perfect time to get caught up on something you missed before it leaves theaters for good. More awards hopefuls are just around the corner to crowd out the summer thrills in our weirdly segregated distribution system. But if you've been slacking and want to get a jump on future Oscar nominees, try to find showings of Beginners (review), The Help (review), Rise of the Planet of the Apes, and Woody Allen's Midnight in Paris (remarkably still in theaters) if you can. They're all four looking good for a nomination or three in various categories.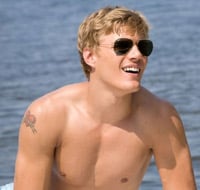 Among the new releases there's two final summer-specific pictures, A GOOD OLD FASHION ORGY is set in the Hamptons as a group of 30something friends decide to throw a (heterosexual) orgy, SHARK BAIT invites you to watch young hotties be devoured in 3D. One of the stars Chris Zylka (left) was recently named a future movie heartthrob in VMan. Zylka will next appear in The Amazing Spider-Man as "Flash Thompson" which means he'll either be bullying Andrew Garfield or befriending him. Or both and in that order if you know your Spidey history. 
 In limited release France's LOVE CRIME is fun if you're a fan of enormously convoluted thrillers that only take themselves half seriously. It's also worth a peek if you're a fan of Kristin Scott Thomas or Ludivine Sagnier ...and in both cases you should be. Brian de Palma (Carrie, Femme Fatale, The Black Dahlia) has the Hollywood remake rights to this one already and knowing de Palma, he's going to amp up the psychosexual lesbian subtext until it's just plain old text. Boldface text, even. That would actually benefit Love Crime. The French movie is bizarrely shy about its sexuality -- when's the last time you heard that? But Kristin and Ludivine are having fun with their cat & mouse / tyrant boss & victimized employee roles.
BONUS SCENE

All cinematic eyes are trained on Venice right now where global icons like Madonna and George Clooney are working the red carpet.
MADONNA AFTER THE JUMP...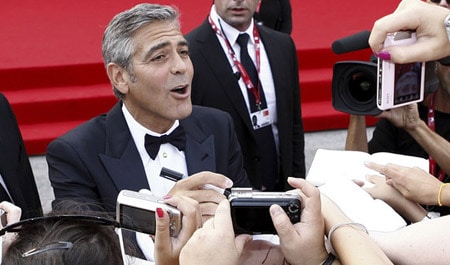 Both Clooney and Madonna seem to be charming the press to an extent that their movies The Ides of March and W.E. haven't quite been able to.
Here's the Queen at the premiere of W.E., her drama about the infamous love story of Wallis Simpson (Andrea Riseborough) and King Edward VIII (James D'Arcy) and at the cast photo op earlier in the day.
The cast from left to right: Oscar Isaac (Total up and comer. He's also in the sensational Ryan Gosling movie called Drive which opens soon — do not miss it.), Madonna (who needs no introduction), Andrea Riseborough (Likely to be a major actress in 3…2…1…), Abbie Cornish (who stars in the modern half of the picture), and James D'Arcy.
If only Madonna had walked the red carpet in a wedding dress with a lion at her side! This being Venice and all. More on Venice premieres and films here. Kate Winslet and Todd Haynes are also in town — she's starring in Roman Polanski's Carnage and he's on the competition jury — but their remake of Mildred Pierce happens to be showing at the festival as well.