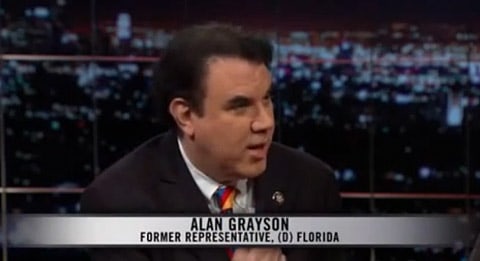 On Friday night's Real Time with Bill Maher, much-missed former Rep. Alan Grayson killed it with a clarfication of what the 'Occupy Wall Street' protests are about, for PJ Rourke and other panelists.
Said Grayson: "They're complaining about the fact that Wall Street wrecked the economy three years ago and nobody's been held responsible for that. Not a single person has been indicted or convicted for destroying 20% of our national net worth accumulated over the course of two centuries. They're upset about the fact that Wall Street has iron control over the economic policies of this country, and that one part is a wholly owned subsidiary of Wall Street and the other party caters to them as well!"
Watch, AFTER THE JUMP...