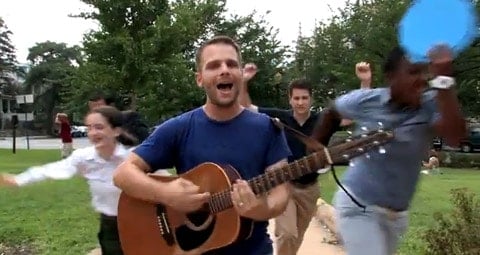 You may remember gay singer-songwriter Tom Goss' video "Lover" about a soldier discharged under 'DADT' which I posted last November. Here's Tom's latest, "It's All Over":
Shot in mid-August in DC, the video shoot survived high heat and humidity, rain storms, power outages and even an earthquake. But you would never know. "Everyone stayed focused on having a good time. That's what I love most about this video. You can really see the joy in everyone's faces... Because the weather refused to cooperate, many of the shots were single takes, we had 30 seconds to get it right. In the past I think that would have stressed folks out but this time around it didn't. We knew we were making something fun and light and as a result approached it in the same manner. Hopefully people watching the video can see that and feed off that. In the end, we just want to make people smile."
Watch, AFTER THE JUMP...