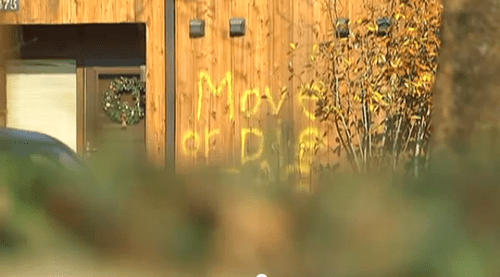 After a "heated" condo association meeting on Thursday, a gay couple retired to their home of 15 years on Blue Cloud Lake, in Columbus, OH. They went to sleep. When they awoke on Friday, they found anti-gay slurs spray-painted on the outside of their home in bright yellow. The smaller piece of graffiti read "Move Or Die F**s." The larger one read, simply: "Die F**s."

The objects of the harassment, David Koch and his unnamed partner -- who will soon celebrate their 25th anniversary -- believe there's a connection between the condo meeting and the graffiti. The Columbus police say the search for the culprit will be handled by the "Strategic Response Bureau," which investigates misdemeanors. In the meantime, Koch and his partner fear the harassment might escalate. "My concern is probably more like, 'is somebody gonna put rat poison in hamburger, and put it out in the yard for the dogs to eat?'"
Watch Koch discuss the incident AFTER THE JUMP ...