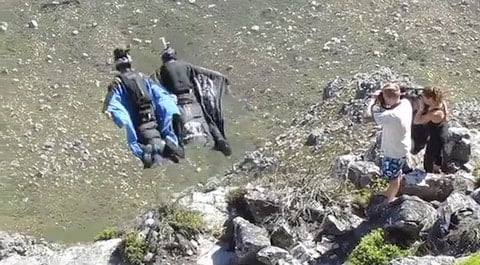 Wingsuit flyer and base jumper Jeb "the birdman" Corliss survived a harrowing plunge off Cape Town, South Africa's Table Mountain on Monday. Corliss clipped the cliff with his legs, according to notes on a YouTube video of his failed jump, which was being filmed by HBO. It was Corliss' second leap from the mountain.
He was recovered from close to the base of the mountain by air ambulance and taken to a private hospital in the city where he was admitted to intensive care. A spokesman for the hospital said that he remained in good spirits, and instructed her to tell well-wishers: "I feel the best I ever have."
Watch, AFTER THE JUMP...
(via the daily what)
Here's an example of one of his unbelievable flights: