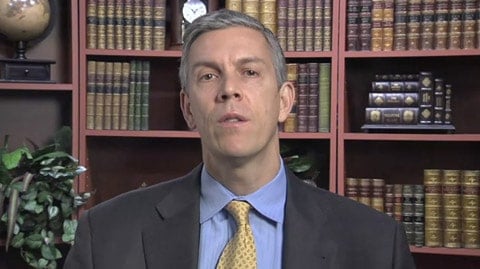 Obama's Secretary of Education Arne Duncan has posted a video on the White House blog marking the first annual Gay-Straight Alliance Day, which is today.
Says Duncan, in part: "When students are harassed or bullied, it directly affects their work in the classroom, their aspirations for the future, and their desire to stay in school. Gay-Straight Alliances and similar student groups play an important role in creating welcoming, affirming, and respectful schools and colleges – safe places where learning can happen and students flourish. This work is absolutely essential. GSAs are a proven tool for creating welcoming school climates and helping students stay in school."
The national GSA Day is a project of the Iowa Pride Network. Said Ryan Roemerman, IPN Executive Director: "Over the years other states were contacting us asking how they could replicate the event, so we decided to coordinate on a national level. The response from partnering state and national organizations has been extraordinary."
Watch, AFTER THE JUMP...