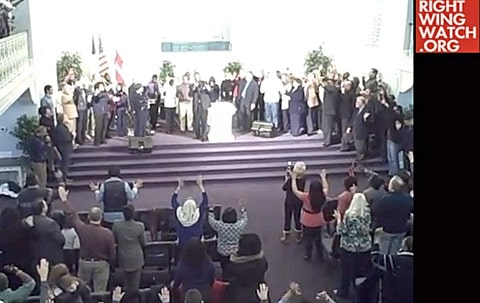 Anti-gay crusader Bishop Harry Jackson spoke at a Family Research Council-hosted event with wingnut Cindy Jacobs over the weekend to raise money to fight Maryland's marriage equality efforts, Right Wing Watch reports: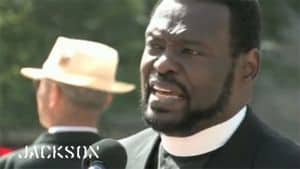 As a favorite of both the traditional Religious Right groups and the "prophets" and "apostles" of the New Apostolic Reformation—Jackson has openly embraced NAR's Seven Mountains Dominionism mantra—it was only fitting that Jackson made a surprise appearance at last night's event, "A Gathering of Eagles," hosted by the FRC and NAR prophetess Cindy Jacobs' Generals International...
...He urged people at the church to pray against "the power of the Queen of Heaven, the ruling principality over this region that has created perversion, collusion and division." Jackson called the legalization of same-sex marriage "an assault" and said "The Enemy wants it to be a legacy, or a seed that is planted in this generation that corrupts, perverts and pollutes" society. He then led the congregation in praying in tongues, and said "we agree together that the Queen of Heaven has no authority over Maryland" and that they will bring down the Queen of Heaven who led to the "perversion of doctrine, perversion of morals and perversion of ethics in D.C."
Check out the insanity, AFTER THE JUMP...