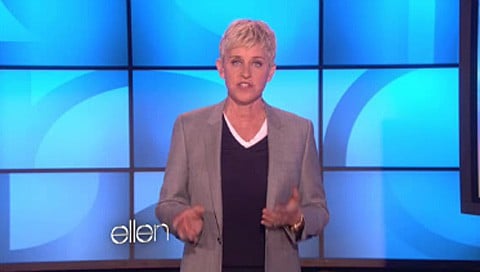 On a show taped today for broadcast tomorrow, Ellen DeGeneres praised the 9th Circuit's ruling on Proposition 8, and then launched into a tirade at the AFA organization 'One Million Moms' for calling for her firing, E! reports.
Watch the clip, AFTER THE JUMP...
As you may recall, the hate group called for JC Penney to fire her as spokesperson because she is, in their words, an "open homosexual".
Wrote the group:
Funny that JC Penney thinks hiring an open homosexual spokesperson will help their business when most of their customers are traditional families. More sales will be lost than gained unless they replace their spokesperson quickly. Unless JC Penney decides to be neutral in the culture war then their brand transformation will be unsuccessful.
Says Ellen: "Normally, I try not to pay attention to my haters—but this time I'd like to talk about it, because my haters are my motivators. This organization doesn't think I should be the spokesperson because I'm gay," DeGeneres continued. "They wanted to get me fired, and I'm proud and happy to say that JCPenney stuck by their decision to make me their spokesperson. Which is great news for me because I also need some new crew socks. I'm really going to clean up with this discount."
Ellen then read some of the comments from her supporters on the Million Moms Facebook page.
Added Ellen: "I usually don't talk about stuff like this on my show, but I really want to thank everyone who is supporting me. Here are the values I stand for. I stand for honesty, equality, kindness, compassion, treating people the way you'd want to be treated and helping those in need.To me, those are traditional values. That's what I stand for…I also believe in dance."
Watch the clip, AFTER THE JUMP...