John Bercow the Commons Speaker who also happens to be president of the LGBT rights group Kaleidoscope Trust, caused outrage among conservatives and got what appeared to be a puzzled scowl from Prime Minister David Cameron, as he introduced Queen Elizabeth II as "a kaleidoscope Queen of a kaleidoscope country in a kaleidoscope Commonwealth".
The reference was seen by many as a plug of the charity.
Watch it, AFTER THE JUMP...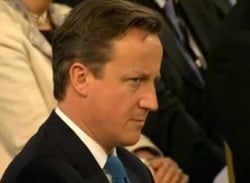 The reference, in Bercow's introduction to The Queen's address to Parliament to mark her Diamond Jubilee, came as part of a longer statement about diversity:
"This is a land where men and women are equal under the law and where your people are respected regardless of how they live, how they look or how they love."
UK Telegraph columnist Damian Thompson is infuriated:
"Let me quickly pay tribute to the Queen's magnificent achievements and her perfectly judged speech before asking… who the hell allowed that creep Bercow to hijack the event with his self-serving PC drivel about the "Kaleidoscope Queen" – and, worse, to insert a thinly disguised plug for gay marriage into a loyal address? The man is a disgrace to our public life. I hope readers share my anger."
The Week UK reports:
Prime Minister David Cameron, who is not a fan of Bercow, was pictured glaring at him during his address. The New Statesman described it as a "look of contempt".

Daily Mail political editor James Chapman commented on Twitter that Prince Philip also gave Bercow a funny look when he quoted Ghandi, and went "on and on with a misjudged and florid speech".

"Queen's Diamond Jubilee address rather shorter than Speaker Bercow's. She didn't want to upstage him on his big day," Chapman tweeted later.
Watch it, AFTER THE JUMP...