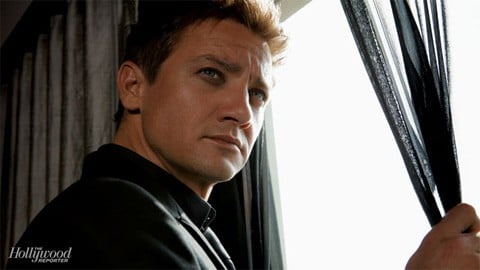 Jeremy Renner is the subject of the Hollywood Reporter's new cover story, and talks about acting, his past relationships, and speculation about his sexual orientation:
For Renner, Internet speculation already has centered around whom he's dating (everyone from Jessica Simpson to Scarlett Johansson, if you believe the tabs) to his sexual orientation. "I want my personal life to be personal, and it's not f—ing true," he says of the suppositions. "And I don't care if you're talking about things that are true, you're still talking about my personal life. How about I go peek in your window, take what underwear you wore last night, whose husband you were f—ing, and shove that in the megaphone throughout your neighborhood? How does that feel?"
He also mentions an incident in which he took down a guy for calling him a gay slur:
Renner tells the story of how, on Christmas Eve a few years back, when he was with his family in a bar, "This guy chokes me with the scarf I was wearing. He called me a fag 'cause I was wearing a scarf! Then he shoved my sister and I got behind him and I choked him out — put him to sleep."
A behind-the-scenes of his cover shoot, AFTER THE JUMP...