Tom Hardy talks to Vulture about his currently very bushy beard, and why he's commenting on your blog posts.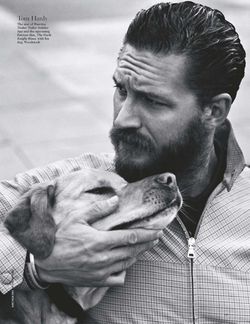 That's wise. And at least you know you can always grow that beard again if you need to go down to the corner shop undetected.
And I f**king will as well!
How long did it take to grow that out?
Five months. And I've already trimmed it a lot, because people are saying it's grizzly.
Which people?
Oh, I'm a terrible reader of the Internet and stuff like that.
And you read what people say about you?
Yeah, 'cause in my head, I'm still not famous. It's like, "Hey, I'm on this site!" Or [to my fiancée], "Look at what we were wearing last night! And everyone says you look great." And then someone will say, "Tom Hardy is a c*nt because … " What? WHAT?
And then do you reply anonymously?
Yes, sometimes! Wouldn't you? Sometimes no one's defending my corner! And then what you find — I've done it before — is that it's a forest fire that you can't put out. It's like [when commenters say], "Is he gay? Isn't he gay?" Does it matter? Does it actually?
And, a hot shot for old time's sake, AFTER THE JUMP...