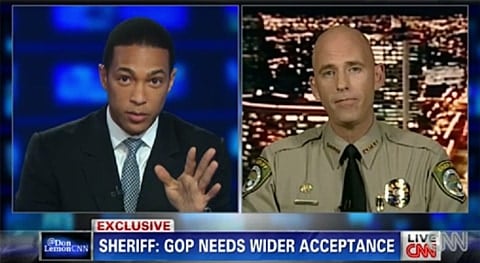 Don Lemon interviewed Pinal County, Arizona Sheriff Paul Babeu late on Friday following his announcement last week that he was quitting his run for Congress and seeking reelection as Sheriff.
Lemon talked to Babeu about the effect that his coming out had on the Republican party and where he sees himself in it, asking Babeu if he would be the guy to "bridge the chasm" in the GOP over gay issues.
"I believe I can be one of – I won't be so bold as to say 'I'm the guy.' We need some officials in the Republican party that just don't come out and say 'hey, I support these issues,' but actually live their life doing their job first – and that's most important – but also say, 'this is who I am.'"
Babeu added that it is important for the GOP to have out and proud members.
"To be truly inclusive, and not just say we're inclusive and a big tent, we've got to show this. We've got to have other people in there with a voice."
Finally, Lemon asked Babeu about the investigation surrounding allegations that he threatened to deport his boyfriend if he exposed their relationship. Says the sheriff: "I asked for this investigation and I'm fully confident that I'll be exonerated."
Watch, AFTER THE JUMP...