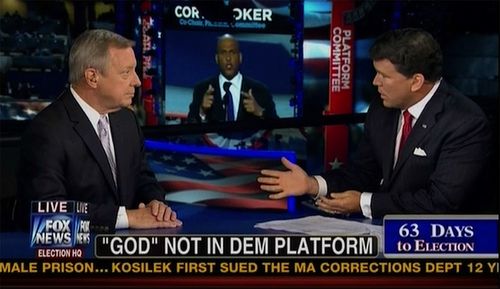 A FOX News chyron, noted by TPM.
ABC News explains what the panty-bunching at Faux News is about:
The Democratic Party's 2008 platform mentioned "God" once, in this passage (emphasis added):
We need a government that stands up for the hopes, values, and interests of working people, and gives everyone willing to work hard the chance to make the most of their God-given potential.
Explaining the removal, a Democratic official explained: "The 2008 platform reference is 'God-given' and is about growing the middle class and making America fair, not actually about faith. The platform includes an entire plank on the importance of faith based organizations and the tremendous work that they do. Further, the language we use to talk about faith and religion is exactly the same vocabulary as 2008. I would also note that the platform mentions: 'faith' 11 times; 'religion' or 'religious' 9 times; 'church' 2 times (one is a quote); and, 'clergy' 1 time."
Watch Senator Dick Durbin get into it with Bret Baier over the issue, AFTER THE JUMP...