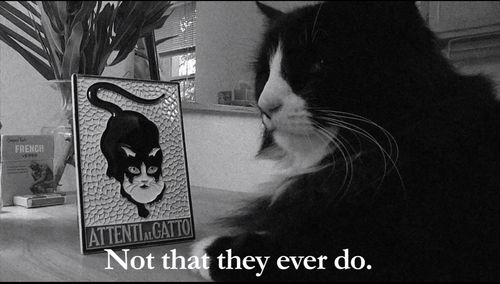 Thousands -- thousands! -- of Minnesotans showed up for the first-ever Internet Cat Video Festival in Minneapolis on Thursday. Many of them wore whiskers. From the New York Times:
The crowd — easily double what organizers expected — packed the lawn outside the museum, spilling onto the sidewalks across the street ... They all settled in for a screening of cats behaving badly, or cutely, or mysteriously, sometimes all at once. That much of the audience had already seen the clips on YouTube did not seem to diminish the enthusiasm. Quite the contrary.

"People watch them, and they watch them over and over and over again," said Gretchen Sealls, 65, a retired banker who drove five hours from Cedar Rapids, Iowa. "I think you're going to see a lot of copycat versions of this," she added. "No pun intended." ...

It is an axiom of Internet life that the cat video is king ...
... which is why when Katie Hill, an associate at Minneoplis's Walker Art Center, began crowd-sourcing cat videos online she received ten thousand submissions  "within months." These were whittled down to the just 79 that made the Film Festival's cut on Thrusday. Of those 79 outstanding cat vids, only one could win the festival's prestigious (?) Golden Kitty Award. That trenchant video is viewable AFTER THE JUMP ...