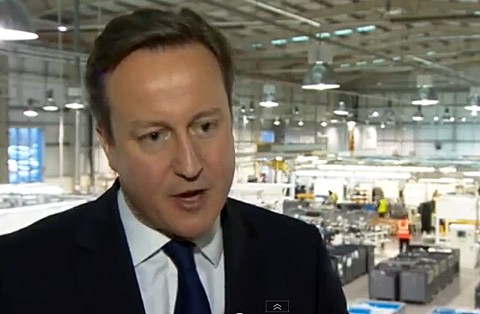 "I am in favor of gay marriage because I'm a massive supporter of marriage and I don't want gay people to be excluded from a great institution," British Prime Minister David Cameron told Channel 4 News, adding that religious institutions would in no way be forced to perform same-sex marriages should that be against their beliefs.
Watch, AFTER THE JUMP...
The Evening Standard adds that Cameron's push begins next week:
Organisations that reject gay marriage, such as the Church of England and the Roman Catholic Church, will have legal protection from being forced to host ceremonies against their wishes, the Prime Minister will pledge.

Tory MPs will have a free vote on a Bill next year, while Labour MPs will be whipped in favour.

It means all three party leaders now support a historic equality reform that would once have seemed incredible — that homosexual partners can have the same civil marriage rights as heterosexual couples and even get married in a religious setting. But some Conservatives said there would be "outrage" and warned that the Tories would haemorrhage members.
Watch, AFTER THE JUMP...