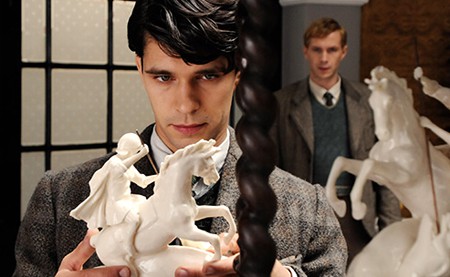 Ben Whishaw and James D'Arcy as the gay lovers at the tangled heart of 'Cloud Atlas'

Have you finished movie-cramming to prepare yourself for the Oscar nominations (January 10th) and your own top ten lists. I've been screening as many titles as possible though I've somehow managed to find time to cry my eyes out through three separate screenings of Les Misérables. But we're already off topic. There are no gay characters of note in that epic musical though who knows what's going on with Marius's (Eddie Redmayne) super handsome band of brothers.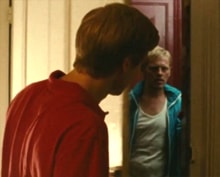 Hollywood is generally behind the curve when it comes to social movements but things are changing and that's even true on the big screen. When gayness is central to a joke now in the movies it's usually not at the expense of the gays which is a marked difference than in the past. The unexpectedly hilarious high school comedy 21 Jump Street (reviewed) is a perfect example. If I'm remembering it correctly the younger students leap all over the undercover cops for their 'that's gay' linguistic insensitivity -- the subtext being that casual homophobia is totally passé.
Not that more controversial gayness isn't still getting plenty of play. The cinema would be a much less vivid playground if you erased all Evil Queers from the celluloid. You'd ruin so many classics! Nobody wants a hopelessly bland entertainment landscape where all gays are noble beings or best friends. So the wildly acclaimed romantic drama Keep The Lights On (starring Thure Lindhardt and Zachary Booth) which is nominated for multiple Spirit Awards, the Southern gothic noir The Paperboy (which might end up with Razzie nominations) and Cloud Atlas have the self-destructive, sexually compulsive and maybe suicidal stereotypes covered for you this year.
 
TOP TEN LGBT MOVIE CHARACTERS OF 2012...  AFTER THE JUMP
[Disclaimer: I have not yet seen the documentary How to Survive a Plague which centers on the ACT UP players in the early days of the AIDS crisis. It's clearly a Must See given the sensational reviews.]
10. The Cast of I WANT YOUR LOVE
I struggled with who to single out before throwing up my arms orgiastically around the entire diverse daisy chain of Travis Mathews art-porn / traditional feature hybrid. The story follows the farewells of Jesse as he packs up to leave the big city after a painful breakup. My favorite coupling was Jesse's dreamy ex Ben (no wonder Jesse's torn up!) & Brontez (pictured left, who recently made the Out 100 Hot List) who steals the picture with delicious comic timing. The best part of the explicit sex scenes is that the characters actually enjoy them!
09. "Rudy" in ANY DAY NOW
Alan Cumming plays this part time drag queen and aspiring singer with just the right combination of open heart and bullheaded tenacity. Rudy's eyebrow raising impulsiveness (a sudden committed relationship and adoption proceedings for a disabled child in the same week?) wouldn't make any sense without both. Rudy is the type of character that might completely aggravate you in real life but he's scaled to win your heart for the big screen with his righteous fury. [Towleroad interview with Alan Cumming]
08. The 'ARE THEY OR AREN'T THEY???' Box Set
With the ever increasing number of gay-identified characters it's less of a parlor game to imagine the characters who might well be queer than it used to be but it's still fun: Tomboy does not always equal lesbian but regardless of her orientation  "Princess Merida" in Brave really shakes up the heteronormative Disney fairytale world merely by being utterly uninterested and even opposed to that Someday When Her Prince Might Come; The chorus of townsfolk who continually sound off on "Bernie" in Bernie argue about whether he's cruising for men on the sly or sleeping with rich widow Shirley Maclaine but both sound pretty gay to me (Jack Black is up for a Golden Globe as Best Actor in a Comedy for this role); "Calvin Candie" in Django Unchained and "Silva" in Skyfall both have implied female lovers but Leonardo DiCaprio and Javier Bardem, respectively, are obviously suggesting more fluid sexualities for their fussy villains both of whom don't even attempt to hide their unruly fascination with scarred muscled men who are very hard to kill.
07. Genesis & Lady Jaye in THE BALLAD OF GENESIS AND LADY JAYE
A year ago I sought out an experimental picture called "Open" by Jake Yuzna because it had won a Teddy Award, the juried gay prize, at Berlinale. It was inspired by the story of Genesis and Lady Jaye, who underwent multiple surgeries to look like one another for their "Pandrogyne" art project. The very next year this documentary sprung from the same transgendered transcendant romance and also won a Teddy. I preferred the earlier pic which was fictionalized but far more focused but Genesis and Lady Jaye are fascinating creatures under any name or movie title.
06. Graham Dashwood in THE BEST EXOTIC MARIGOLD HOTEL
SPOILER ALERT. Yes Graham is gay. The Best Exotic Marigold Hotel (reviewed) is one of those pictures that likes to hide the intimate truths and troubles of its ensemble cast so that they can all bloom at roughly the same time towards the climax. Graham's climax comes a bit earlier as he searches for his first love in India, a country that has stayed in his heart through this one love lost. Tom Wilkinson is a lovely actor but it's the women in the film who've won awards buzz. Best friends Dame Judi and Dame Maggie won Globe and SAG nods respectively.
05. "Marie Antoinette" in FAREWELL MY QUEEN
This romantic triangle French drama was, for me, the biggest surprise of 2012. Yes, people wear ornate royalty-porn gowns. No, it doesn't play at all like "A Costume Drama". It's modern in psychology and sexually riveting without being anachronistically acted or explicit. Big props to Diane Kruger (Inglourious Basterds) who finds a new way to spin this oft-dramatized royal. Her queen is impossibly bored and so perpetually indulged that she imagines her taste for the finer things… especially one fine forbidden woman… won't be her undoing. She's wrong.
04. "Dean & Carlo" in ON THE ROAD
This film has had a long rough journey to the big screen but it's finally in select theaters. The adaptation of the not-entirely filmable Beat classic tells the story of Sal Paradise (Sam Riley) and his intense wanderlust friendships with womanizing Dean Moriarty (Garrett Hedlund) and gay writer Carlo Marx (Tom Sturridge) and their various lovers. Riley is too vague to fully embrace the eroticism of the not-so platonic friendships at the film's core but Hedlund is positively on fire, bedding men and women alike and welcoming all admirers equally in one of the best performances of the year.  [More on On the Road's stars here]
03. "Matt" (and friends) in GAYBY
Sometimes, when thinking back on Gayby, I imagine writer/director/co-star Jonathan Lisecki as an evil gay scientist creating Frankenstein Monsters of Adorableness. "Matt" must have been created in a gay laboratory he's such crush-worthy boyfriend material: funny, sexy, perfectly bodied, artistic, sensitive. Everyone else in this gem of an ensemble comedy is adorable too, and in different ways, proving that perhaps Lisecki is not an evil scientist at all but a benevolent god among new comic voices [Towleroad interview with Lisecki]
02. "Mitch" in PARANORMAN
Yes the dumb jock older brother of the title character's best friend is gay. That might make him sound like a very minor character but he's not. Mitch's homosexuality isn't much of a spoiler anymore since his completely casual reference to his boyfriend is one of the most discussed moments in the popular horror comedy. Is he the first openly gay character in an animated feature intended for all ages? I haven't done the research but it seems like he'd have to be. The best part of ParaNorman as a movie is that it really absorbs its anti-bullying theme instead of just paying it lip service and always works from a point of open-hearted inclusiveness. This town, just like any other, has gay people living in it. ParaNorman is so true to its concept that even the villain isn't demonized in the spooky proceedings.
01. "Patrick" in THE PERKS OF BEING A WALLFLOWER
The actor Ezra Miller, who previously creeped out audiences with barely concealed or fully revealed homicidal tendencies in Afterschool and We Need To Talk About Kevin, won hearts instead of shivers this year. In a total about face he nailed the role of openly gay sweetly funny Patrick with a healthy sense of pride, wit, self-awareness and impatience for that "it gets better" moment. He's not the Wallflower of the film's title (that'd be Logan Lerman) but he emerges as the film's true sideways hero, keeping this misfit group of teenagers tied together in deeply supportive friendships. Bonus points: Miller came out himself this year.
Nathaniel Rogers would live in the movie theater but for the poor internet reception. He blogs daily at the Film Experience. Follow him on Twitter @nathanielr.