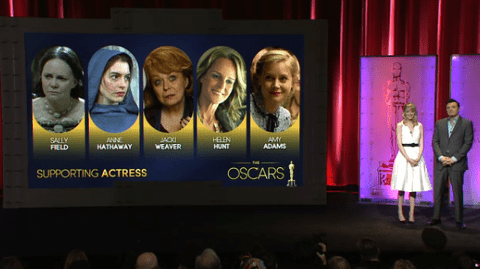 Seth MacFarlane and Emma Stone were up early this morning (or up late last night) to announce the 2013 Oscar nominations, and the selection is both predictable and deserving.
Biopic Lincoln is definitely leading the pack with five nominations out of the six major categories, including Daniel Day-Lewis in Best Actor and Sally Field in Best Supporting Actress, and Les Miserables received four, including Hugh Jackman for Best Actor and Anne Hathway for Best Supporting Actress. Both flicks were also nominated for Best Picture, as were Quentin Tarantino's controversial Django Unchained, the Denzel Washington-starrer Flight, which also garnered him a Best Actor nomination, and Zero Dark Thirty, the tale about the SEAL team's successful quest to kill Osama bin Laden.

Check out the complete list AFTER THE JUMP...
Screenshots via Business Insider: