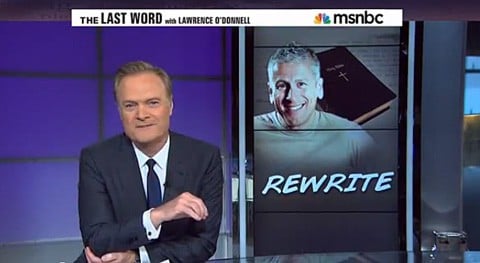 Lawrence O'Donnell last night looked at the ejection of Rev. Louie Giglio from the inauguration ceremony over what he says it says in the Bible about gay people, as well as the use of that book in the inauguration ceremony, and the ironies present therein:
"This time, as it was last time for the first time in history, the book will be held by a First Lady who is a descendent of slaves. But the holy book she will be holding does not contain one word of God condemning slavery. Not one word. But that same book, which spends hundreds and hundreds of pages condemning all sorts of things and couldn't find one sentence in here to condemn slavery, does indeed manage to find the space to repeatedly condemn gay people, as the now banished Louie Giglio says it does. And as the First Lady is holding that book for the President, sitting somewhere near them will be a pastor who the Inauguration Committee will make sure is much more adept at hiding what that book actually says than Louie Giglio was."
Watch, AFTER THE JUMP...