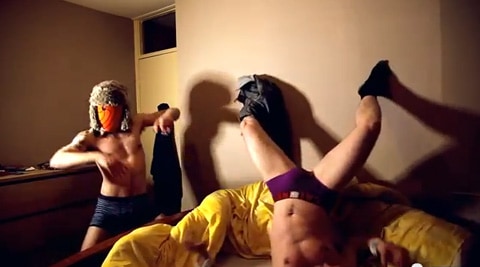 No doubt you've heard about YouTube's latest meme. If not, where have you been?
Here's the backstory: The clips, set to the song "Harlem Shake" by Baaue, usually show a masked person doing the Harlem Shake dance by themselves in front of other people who are behaving normally. Halfway through the clip, it cuts to a crazy dance party featuring the entire group.
Naturally, this lends itself well to college dorm room situations, and the 'surprise' element provides the perfect vehicle for sudden clothing removal. You've even got swim teams shaking it underwater:
So, there you have it. Enjoy the following 25 examples (and a few bonus links to some completely nude work-unfriendly 'humping' versions) which take place in various college dorm rooms, pools, Winter Storm Nemo backyards, and even next to the Chicago Bean in Millenium Park.
Watch, AFTER THE JUMP...
Not technically a Harlem Shake video, even though they call it one:
Bonus for location:
And finally, two quite work-unfriendly versions, HERE,HERE, and HERE.