Megan Phelps-Roper, who pioneered the use of social media at the Westboro Baptist Church, and her sister Grace have left the church, like their older brother Nate did years ago.
You may recall seeing Megan on Towleroad when we've posted her song parodies, set to Lady Gaga's "Telephone" and "Poker Face".
Watch a 2009 interview with Megan and Grace during one of their protests,
AFTER THE JUMP...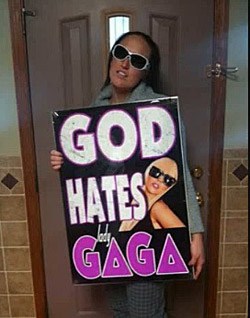 Writes a soul-searching Phelps-Roper about herself and her sister Grace in a blog post called 'Head Full of Doubt / Road Full of Promise - Turning Points:
There are some things we do know.

We know that we've done and said things that hurt people. Inflicting pain on others wasn't the goal, but it was one of the outcomes. We wish it weren't so, and regret that hurt.

We know that we dearly love our family. They now consider us betrayers, and we are cut off from their lives, but we know they are well-intentioned. We will never not love them.

We know that we can't undo our whole lives. We can't even say we'd want to if we could; we are who we are because of all the experiences that brought us to this point. What we can do is try to find a better way to live from here on. That's our focus.

Up until now, our names have been synonymous with "God Hates Fags." Any twelve-year-old with a cell phone could find out what we did. We hope Ms. Kyle was right about the other part, too, though – that everything sticks – and that the changes we make in our lives will speak for themselves.
Jeff Chu, editor at Fast Company, who first met Megan in 2011, tells the story of how and why they left, and what they have been doing since, HERE.
He talks about the "epiphany" moment she had, when she realized the church's "Fags can't repent" philosophy was flawed:
Her departure has hurt them already—she knew it would—yet there was no way she could stay. "My doubts started with a conversation I had with David Abitbol," she says. Megan met David, an Israeli web developer who's part of the team behind the blog Jewlicious, on Twitter. "I would ask him questions about Judaism, and he would ask me questions about church doctrine. One day, he asked a specific question about one of our signs—'Death Penalty for Fags'—and I was arguing for the church's position, that it was a Levitical punishment and as completely appropriate now as it was then. He said, 'But Jesus said'—and I thought it was funny he was quoting Jesus—'Let he who is without sin cast the first stone.' And then he connected it to another member of the church who had done something that, according to the Old Testament, was also punishable by death. I realized that if the death penalty was instituted for any sin, you completely cut off the opportunity to repent. And that's what Jesus was talking about."
Phelps and her sister disappeared for a while, and have been trying to find themselves, after having been told what to do and what to think their whole lives:
Once a constant Tweeter, she hasn't posted anything online since October. "I don't know what I believe, so I don't know what to say," she explains. "I haven't been ready to talk about any of this." She's only doing so now, and briefly, because, she says, "I was so proactive before and vocal about the church. My name means something now to others that it doesn't mean to me. I want people to know that it's not now how it was."
Watch a 2009 interview with Megan and Grace during one of their protests,
AFTER THE JUMP...