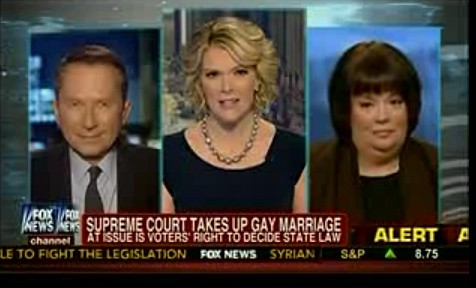 NOM's Maggie Gallagher, who was also seen wandering through the pro-equality rally today, appeared on FOX News today to give her take on the Supreme Court and Proposition 8, facing off against former Clinton aide Richard Socarides, Equality Matters reports.
Said Gallagher:
"For the Supreme Court to brand this view as irrational bigotry akin to racial discrimination would not end the culture wars, it would entrench them, and it would take away something very precious, which is the right of seven million Californians to use the democratic process to make our case to the American people. And so, I certainly think trying that to persuade the American people that the Constitution drafted by our Founding Fathers in 1789 has always required gay marriage is a long stretch and I'm hopeful that the Supreme Court will uphold Prop 8."
Watch, AFTER THE JUMP...