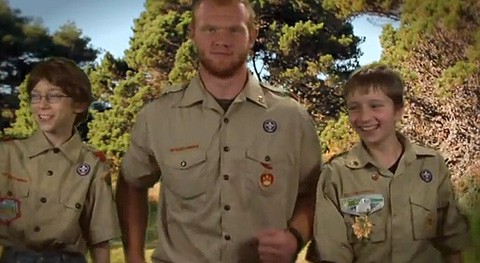 With the help of Eagle Scout and "once small and painfully nerdy" filmmaker Todd Bieber, a group of Boy Scouts from Bieber's old troop get to go to NYC and meet some talented gay entertainers and filmmakers who give them the "most fun they've ever had" as Scouts.
Bieber is using a short film documenting the experience as a campaign to get the Boy Scouts to end their ban on gay scouts and leaders.
Check out the super-inspiring video, AFTER THE JUMP...
Bieber's movie:
Here is the Scouts' movie, Attack of the Evil Mutant Scouts:
And gay actor Denis O'Hare, who helped out, is interviewed by the Scouts as part of fulfilling the requirements to earn Cinematography Merit Badge:
And their interview of SNL writer Chris Kelly: