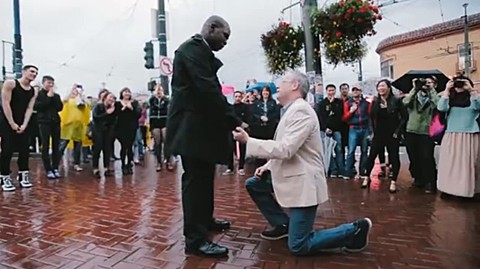 Tim proposed to Bennie with the help of a flash mob at Castro and Market in San Francisco on March 30:
Despite the dark skies and the rain, the flash mob crew were adamant in making sure that this "Single Ladies" Proposal flash mob persevere. Tim wanted to surprise his amazing partner Bennie during his birthday with a flash mob proposal to one of his favorite songs. Without him knowing Bennie thought that the flash mob dedicated for him was just a regular flash mob that he stumbled upon. Our beautiful Leanne reeled Bennie to join us with a few dance steps then we surrounded him in order for Tim to set up and surprise him with a heart felt proposal. Bennie said yes and started realizing that numerous friends were there to show their support. Thank you Tim and Bennie, this was an experience that shows all that anyone can love and the skies agreed. Two beautiful rainbows appeared after the proposal including a gorgeous sunset.
Watch, AFTER THE JUMP...
Don't miss our other recent Gay Wedding videos...
Gay Marriage Proposal of the Day: Mike and Dave [tlrd]
Gay Wedding Video of the Day: Dan and Eric [tlrd]
Gay Wedding Video of the Day: Wesley and Jonathan [tlrd]
Gay Wedding Video of the Day: Jackson and Kwesi [tlrd]
Gay Wedding Video of the Day: David and TreDarrius [tlrd]