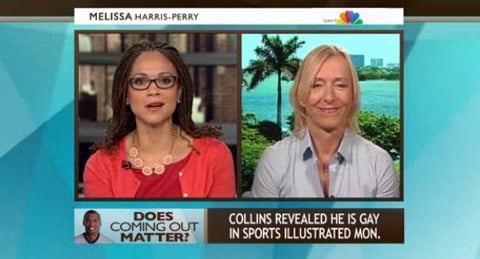 Martina Navratilova appeared on Melissa Harris Perry's show on Sunday to talk about Jason Collins, his coming out, and why it's so important for athletes to continue doing so:
"In this day and age, a third of teenage suicides are due to their sexual orientations," Navratilova said. "They're so terrified of coming out as gay that they take their own life."
Navratilova mentioned that she came out as AIDS was coming to light, and noted President Reagan's failure to adequately acknowledge the problem was a part of the culture at the time.
"Being gay was the lowest of the low that you could get, and that's why people stayed in the closet, because you could get so shamed, you were so ashamed of who you were—not because of who you thought you were, but because of what everybody else thought—that people just didn't speak up."
Watch, AFTER THE JUMP...
Visit NBCNews.com for breaking news, world news, and news about the economy