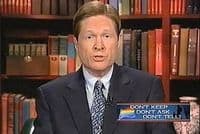 With the Employment Non-Discrimination Act (ENDA) receiving bipartisan approval in the Senate HELP committee this month, the right-wing hysteria over a potential future where sexual orientation is protected against employment discrimination has steadily grown.
Right Wing Watch reports that Peter Sprigg (pictured right) of the hate group Family Research Council, stopped by Janet Mefferd's radio show yesterday to stoke fears that ENDA represents a "direct assault on moral values," and is actually just an effort to legislate the "immorality of those who accept homosexual conduct."
Listen, AFTER THE JUMP...