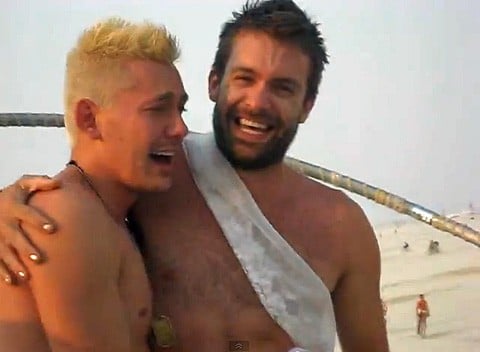 Derek proposed to his boyfriend Robert with a flash mob at Burning Man at the end of August, featuring the fiancé's favorite dance music, rehearsals at camps on the playa, white costumes, and choreography. He then proposed to Frank Sinatra's "Strangers in the Night".
The camera needs a bit of stabilizing (well, more than a bit) but you get the idea.
Watch, AFTER THE JUMP...
Don't miss our other recent Gay Marriage Proposal videos...
Gay Wedding Video of the Day: Johnny and Sebastian [tlrd]
Gay Marriage Proposal of the Day: Adam and Nathaniel [tlrd]
Gay Marriage Proposal of the Day: Danielle and Her Girlfriend [tlrd]
Gay Marriage Proposal of the Day: Carl and Andrew [tlrd]
Gay Marriage Proposal of the Day: Shaun and Michael [tlrd]