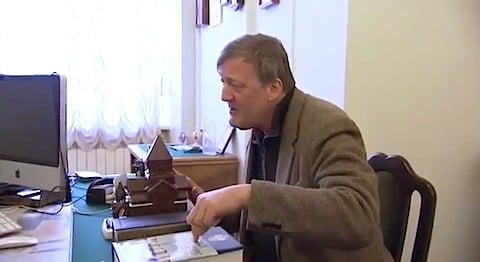 Earlier this week we posted a clip from Out There, Stephen Fry's docu-series about homophobia for BBC2, which featured Fry interviewing the founder of 'ex-gay' group NARTH. In this new clip, Fry confronts Vitaly Milonov, the author of St. Petersburg, Russia's ban on 'gay propaganda', and tells him how ridiculous he sounds.
Says Fry:
"You really ought to stop because you're making a great fool of yourself on camera. This is going to be shown around the world and if people hear you speaking like this they're going to think so little of Russia. They're going to think, 'Is this man actually allowed to use the street and the telephone, let alone be a politician?'"
Watch, AFTER THE JUMP...